Home | Contents | Arizona y Sonora > Alamos > Things to do in Alamos, Sonora, Mexico
RimJournal: Arizona y Sonora
Things to do in Alamos, Sonora, Mexico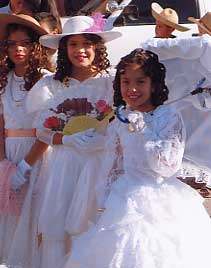 Alamos is a quiet town, but there are many activities available. Sometimes the nicest thing is to do nothing, or at least not very much.
Events calendar, Alamos, Sonora, Mexico
Tours and attractions in Alamos
Day trips and tours from Alamos
Note: $ prices in Alamos may be either US dollars or Mexican pesos, ask if you aren't sure.
Figure 1: Girls in white lace, La Parada de 22 Noviembre, Alamos, Sonora, Mexico from Children of Alamos, © Joan Gould Winderman, 2003
For current updates in Alamos, check with

The bulletin board (1) in the entry to the patio cafes and shops south of the Portales Hotel.
The Alamos News is a moderated Yahoo newsgroup at http://groups.yahoo.com/group/alamosnews/. There is lots of information on what is happening in town, mostly in the expat community. They will post your questions and whoever is interested can respond. To register to participate send a BLANK e-mail to: alamosnews-subscribe at yahoogroups.com

or the front desk at your hotel
Back to Alamos toc or browse church | photos | map | events calendar | tours/attractions | shopping | day trips | music | cafes and restaurants | street vendors and markets | food specialties | Teresita's Panadería and Bistro | highway guide | bus service
RimJournal Home | Contents | top of page
Browse: Arizona and Sonora | Alamos, Mexico | desert wildflowers | adobe/mud brick | recipes | Portfolio art, poetry, short stories

Contact us
Photographs, artwork and text are copyright © Carolyn Leigh, 1996-2011. All rights reserved.
http://www.rimjournal.com/arizyson/alamos/todo/todomain.htm
RimJournal, Tucson, AZ, USA at http://www.rimjournal.com/