Home | Contents | Arizona y Sonora > Alamos > The colors of Alamos
RimJournal: Arizona y Sonora
The colors of Alamos
Alamos is a very old town for North America. The stone and adobe buildings are plastered with a soft stucco and whitewashed. New whitewash shimmers blindingly in the dry desert heat, but after only a few seasons of summer monsoonal rains, it softens into subtle tints of rose and grey.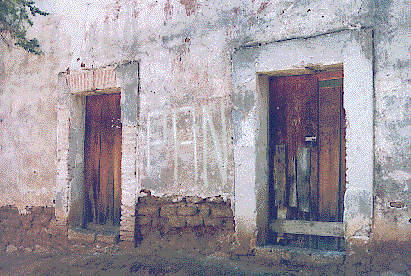 Old whitewashed wall with faded political graffiti.
Hue in the desert must be intense to hold its own, the boldness of light flattens subtle shades and details into boredom. O'Keefe in her paintings and Barrigan in his architecture understood the vocabulary of that light. In Alamos, color is hidden in patio gardens. Pass by on the street and there are cool glimpses of fountains and flowers through the entry arches, cascades of magenta bougainvillea, ice blue veracruzana frothing over walls, lines of turquoise pots filled with hot pink geraniums, red poinsettias against a deep green wall.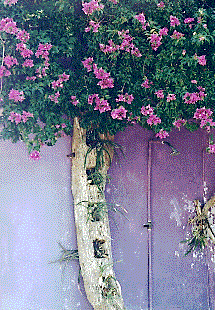 Orchid plants in salvaged wood under bougainvillea in the garden of La Puerta Roja.
Bright white - bright red. In Alamos, the whites are surprised with dancing color.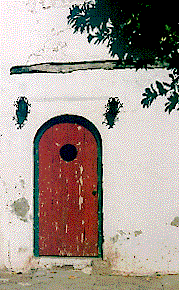 Small entry door in massive old wall.
Back to Alamos toc or browse church | photos | map | events calendar | tours/ attractions | shopping | day trips | music | cafes and restaurants | street vendors and markets | food specialties | highway guide
RimJournal Home | Contents | top of page
Browse: Arizona and Sonora | Alamos, Mexico | desert wildflowers | adobe/mud brick | recipes | Portfolio art, poetry, short stories

Contact us
Photographs, artwork and text are copyright © Carolyn Leigh, 1996-2022. All rights reserved.
https://www.rimjournal.com/arizyson/alamos/oldwalls.htm
RimJournal, Tucson, AZ, USA at https://www.rimjournal.com/