Home | Contents | Arizona y Sonora > Alamos > Eating out in Alamos | Highway guide to Alamos | Map of Alamos, Sonora, Mexico
RimJournal: Arizona y Sonora
Map of Alamos, Sonora, Mexico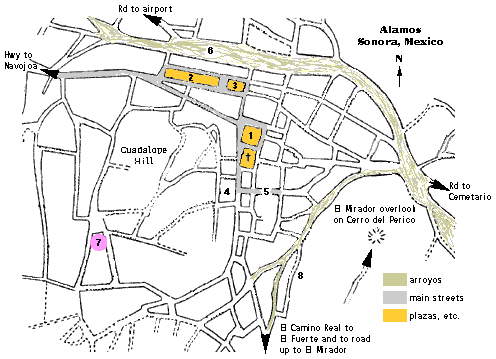 Plaza de Las Armas in front of the church has a hotel and bar, cafes, shops and the museum.
Parque de Alameda plaza is surrounded by shops. Bancrecer with an ATM is on the south side of Madero as you continue west.
El Mercado is the main market.
El Palacio town hall with offices, patio and stage for the music festival and other events.
Calle Obregõn and nearby streets have hotels, cafes, art and craft vendors and shops.
Tiangus Sunday market held in the Arroyo La Aduana.
Teresita's Panadería and Bistro
Barrio Perico
Roads going out from the edge of the map:

Highway to the west connects Alamos to Minas Nuevas, the turn-off to Aduana and to Navojoa and Highway 15.
Road to the northwest goes to the Alamos airport which can accommodate small jets.
Road to the east goes to the historic Cemetario. Day of the Dead activities are in early November.
El Camino Real, the original colonial King's Highway, goes south to El Fuerte. The road to El Mirador which provides a sweeping view of Alamos, turns off to the left (east) just outside of town.
Arroyos are river beds. In the dry seasons they have little or no water. Cars and trucks drive across and footpaths follow the banks. Never attempt to cross an arroyo if it has a lot of water. If you aren't sure, don't cross; the currents are very strong.
See also: Highway guide to Alamos
This map is based on one in The Stately Homes of Alamos, by Leila Gillette.
Back to Alamos toc or browse church | photos | map | events calendar | tours/ attractions | shopping | day trips | music | cafes and restaurants | street vendors and markets | food specialties | highway guide
RimJournal Home | Contents | top of page
Browse: Arizona and Sonora | Alamos, Mexico | desert wildflowers | adobe/mud brick | recipes | Portfolio art, poetry, short stories

Contact us
Photographs, artwork and text are copyright © Carolyn Leigh, 1996-2022. All rights reserved.
https://www.rimjournal.com/arizyson/alamos/townmap.htm
RimJournal, Tucson, AZ, USA at https://www.rimjournal.com/