Home | Contents | Arizona y Sonora > Alamos > eating out in Alamos > Cafes and restaurants
RimJournal: Arizona y Sonora
Cafes and restaurants
Hotel restaurants vary from year to year depending on the owners and their chefs. Ask around as many cafes are only open in the busy season and close in the summer.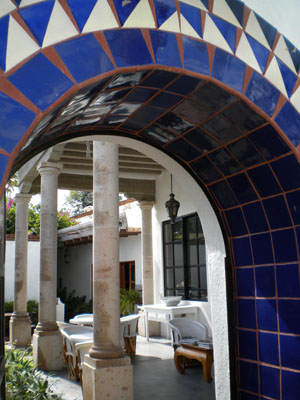 Check out the listings in AlamosMexico.com at http://www.alamosmexico.com/
Walk the town, ask locals, try something new!
Figure 1: Entrance to Teresita's Panadería & Bistro, Alamos, Sonora, Mexico.
See also:

Back to Alamos toc or browse church | photos | map | events calendar | tours/attractions | shopping | day trips | music | cafes and restaurants | street vendors and markets | food specialties | highway guide | bus service | firearms
RimJournal Home | Contents | top of page
Browse: Arizona and Sonora | Alamos, Mexico | desert wildflowers | adobe/mud brick | recipes | Portfolio art, poetry, short stories

Contact us
Photographs, artwork and text are copyright © Carolyn Leigh, 1996-2022. All rights reserved.
https://www.rimjournal.com/arizyson/alamos/cafefood/cafes.htm
RimJournal, Tucson, AZ, USA at http://www.rimjournal.com/