Home | Contents | Arizona y Sonora > Alamos > Things to do > Music in Alamos
RimJournal: Arizona y Sonora
Music in Alamos
Three types of canciónes (songs) heard in Alamos are the ranchera, the corrido and the huapango.
Rancheras often lament a lost love (mi corazón/my heart) or other sorrow and the drinking to forget. Canciónes rancheras are sung by both norteño conjuntos and by mariachis.
Corridos are ballads, narrative story poems in Spanish set to music. Norteño corridos are songs of ordinary working people about almost any subject from horse racing to crossing the border.
Huapangos use prolonged falsetto notes and a strumming pattern on the guitar that mimics the beat of a drum. The high notes of Malagueña Salerosa are typical of a huapango that highlights the singer's vocal range and control - the musical equivalent of a bull fighter's prolonged flourish of the cape. Huapango is a word of Aztec origin which originally referred to songs from the Huasteca region with short falsetto notes and to musicians in Veracruz who played them. Interestingly, the Aztec word for guitar was mecahuehuetl, which means a drum with strings.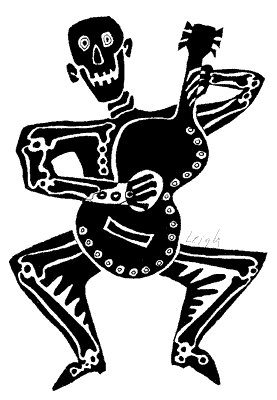 CDs make a nice selection to remember your time in Alamos. CDs and cassettes sometimes available from the shops and the Museo on the Plaza.
Te Digo Adios and Mas Hacendados by Los Hacendados of Hacienda de Los Santos. The Hacienda quintet continues the Alamos tradition of very beautiful music. My favorite is their rendition of Eres Tú. Another vocal on their album is Perfidia. A midi instrumental version is playing now.
Con Sabor A Tuna by Estudiantina de Dr. Alfonso Ortiz Tirado. 12 songs by the Alamos Estudiantina, strolling student troubadours in the costumes of early Spain, who play and sing in Alamos street processions during celebrations.
Look for other collections during the January Music Festival.
Figure 1: Guitar Player, Carolyn Leigh's Day of the Dead skeleton print available at http://www.carolynleigh.com/
More info (the following links are not kept updated):
Playing is Malagueña, an 8k midi file, #197 by E. Lecouna on the guitar, from Flute Midi at http://www4.osk.3web.ne.jp/~kasumitu/eng.htm
and Perfidia, a 10k midi file from Juan Perez at http://www.juanperez.com/musica.html. Perfidia is one of the songs featured on Te Digo Adios.
Back to Alamos toc or browse church | photos | map | events calendar | tours/attractions | shopping | day trips | music | cafes and restaurants | street vendors and markets | food specialties | Terasita's Panadería and Bistro | highway guide
RimJournal Home | Contents | top of page
Browse: Arizona and Sonora | Alamos, Mexico | desert wildflowers | adobe/mud brick | recipes | Portfolio art, poetry, short stories

Contact us
Photographs, artwork and text are copyright © Carolyn Leigh, 1996-2011. All rights reserved.
http://www.rimjournal.com/arizyson/alamos/todo/musica.htm
RimJournal, Tucson, AZ, USA at http://www.rimjournal.com/