Home | Contents | Arizona y Sonora > Alamos > Things to do > Events calendar, Alamos, Sonora, Mexico
RimJournal: Arizona y Sonora
Events calendar, Alamos, Sonora, Mexico
This is a general listing of events. Check out the bulletin boards located at the Museo and in the entry to the cafe and shops on the Plaza de Armas next to the Portales Hotel, the calendar at http://www.alamosmexico.com/. There are many local clubs, openings and other events. Please note that most venues shut down during the summer.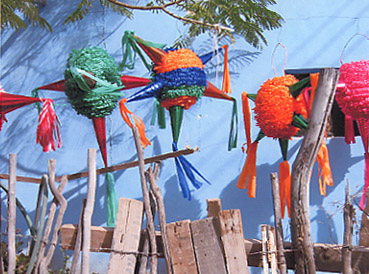 Events in Alamos
WEEKLY
Homes Tours
Sat 10 am, meet in front of the Museo, Plaza de Armas, Nov - April, $10 US or peso equivalent. Amigos de Educacion sponsor this guided tour of 3 beautiful homes in the historical district. The $10 fee is used by the Scholarship Fund to sponsor nearly 300 children of Alamos to continue their education.
Tianguis
Sunday morning market held along the Arroyo Aduana.
Mass at the La Parroquia de la Purisima Concepcion
Sundays 6:30, 8:30, 12:00 and 6:00 pm
Monday to Saturday 6:30 am, 6:00 pm
Figure 1: Homemade traditional piñatas for sale in an Alamos barrio. Photo by Joan Gould Winderman
Figure 2: Little clown waiting for the parade to start. Photo by Joan Gould Winderman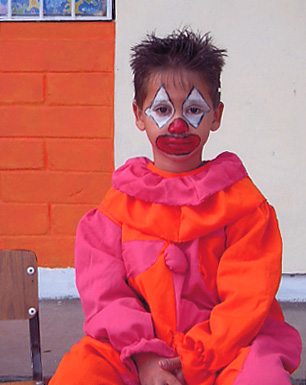 JANUARY
mid-January (Jan 22-30, 2009): Music Festival Dr. Alfonso Ortiz Tirado and Art Walk Festival - national and international musicians perform throughout the week
FEBRUARY
5: Constitution Day
MARCH
21: Benito Juarez Day and first day of spring parade
MAY
5: Cinco de Mayo parade in the Plaza de Armas
JUNE - AUGUST
Off season - the main event is the monsoon rains!
SEPTEMBER
mid-September: Cry for Independence re-enactment at city hall at and Independence Day Parade
NOVEMBER
1-2: Celebration of Day of the Dead, cemetery all day and evening, the Museo often has special exhibits and events
mid-November: Virgin de Balvanera Festival - Procession from Alamos Plaza de Armas to La Aduana, Festival of the Virgin de Balvanera in La Aduana
late November: Revolution Day Parade on Plaza de Armas
DECEMBER
early December: Patronales (Festival of the Patron Saint of Alamos) a week long series of events in the Plaza de Armas
12: Day of Our Lady of Guadalupe - Patron Saint of Mexico
Back to Alamos toc or browse church | photos | map | events calendar | tours/attractions | shopping | day trips | music | cafes and restaurants | street vendors and markets | food specialties | highway guide
RimJournal Home | Contents | top of page
Browse: Arizona and Sonora | Alamos, Mexico | desert wildflowers | adobe/mud brick | recipes | Portfolio art, poetry, short stories

Contact us
Photographs, artwork and text are copyright © Carolyn Leigh, 1996-2011. All rights reserved.
http://www.rimjournal.com/arizyson/alamos/todo/calender.htm
RimJournal, Tucson, AZ, USA at http://www.rimjournal.com/