Home | Arizona y Sonora > Desert wildflowers > Pink to red-orange flowers > Mariposa lily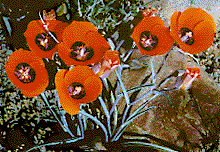 Mariposa lily
(Calochortus kennedyi)
Common names: desert mariposa.

Perennial, Lily Family.

Blooms March-May in southern California and Arizona and in northern Sonora.

Height varies from 6 inches when it is freestanding, to 24 inches when it grows up through a bush (15 to 60 cm). The single leaves are slender. Each spectacular vermilion petals has a distinctive, dark spot at the base. These glands are used to identify different species of mariposas.
Some years mariposas don't bloom at all. This photo was taken in 1998, a record year. In over 20 years of photographing on the same hillside, I have never seen so many blooms nor so many on a single plant.
Sometimes shades into a yellow species (calochortus nuttalii aureus). Related to the weak-stemmed, white mariposa (calochortus flexuousus) and the sego lily (the state flower of Utah).
Its genus name, calochortus, means beautiful grass in Greek. Mariposa is the Spanish word for butterfly and also is a slang word for lesbian in Mexico.
Browse pink to red-orange: Arizona barrel cactus | Arizona fishhook cactus | Chuparosa | Fairy duster | Globe mallow | Mariposa lily | Parry penstemon
Browse color tocs: white to cream | yellow to yellow-orange | pink to red-orange | blue to purple | green, etc.
RimJournal Home | Contents | top of page
Browse: Arizona and Sonora | Alamos, Mexico | desert wildflowers | adobe/mud brick | recipes | Portfolio art, poetry, short stories

Contact us
Photographs, artwork and text are copyright © Carolyn Leigh, 1996-2022. All rights reserved.
https://www.rimjournal.com/arizyson/wldflowr/pinkreds/mariposa.htm
RimJournal, Tucson, AZ, USA at https://www.rimjournal.com/