Home | Arizona y Sonora > Desert wildflowers > Pink to red-orange flowers > Arizona barrel cactus
Arizona barrel cactus
(Ferocactus wislizenii)
Cactus Family.

Blooms August-September in southern Arizona, southwest New Mexico and into northern Mexico. The California Barrel and Sonora Barrel are similar species.

4-5 feet up to 8 feet (1.25-2.5 meters) high, fat with hooked spines which glisten red when wet. Older plants lean to the south and sometimes fall over. The flowers are red-orange, shading to yellow and bloom in a ring at the top of the cactus.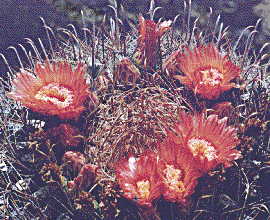 This frost resistant barrel grows in the Sonoran and Chihuahuan deserts and on up into the mountains. The bright yellow fruits are edible, eaten by rodents, birds and javelina.
Both the fruits and the plant have been used to make cactus candy, but this destroys the stands. This cactus, as well as all the others, are protected by law and it is illegal to dig them up or chop them open. Like many cactus, the barrel has a fleshy interior, but it is NOT full of water.

Browse pink to red-orange: Arizona barrel cactus | Arizona fishhook cactus | Chuparosa | Fairy duster | Globe mallow | Mariposa lily | Parry penstemon
Browse color tocs: white to cream | yellow to yellow-orange | pink to red-orange | blue to purple | green, etc.
RimJournal Home | Contents | top of page
Browse: Arizona and Sonora | Alamos, Mexico | desert wildflowers | adobe/mud brick | recipes | Portfolio art, poetry, short stories

Contact us
Photographs, artwork and text are copyright © Carolyn Leigh, 1996-2022. All rights reserved.
https://www.rimjournal.com/arizyson/wldflowr/pinkreds/barrelct.htm
RimJournal, Tucson, AZ, USA at https://www.rimjournal.com/