Home | Arizona y Sonora > Desert wildflowers > Pink to red-orange flowers > Arizona fishhook cactus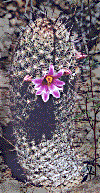 Arizona fishhook cactus
(Mammillaria microcarpa)
Common names: pincushion (but this should be used for cactus in this genus with straight spines, rather than hooked).

Cactus Family.

Blooms June-July in southern Arizona into New Mexico and west Texas. Can tolerate more moisture than the similar Many-Spined Fishhook which occurs in western Arizona and southern California.

Up to 6 inches (15 cm) high. Central spines are hooked. Fruits are bright red, smooth and fleshy.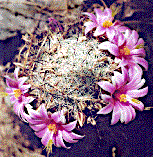 Likes to grow under the shade of trees, shrubs or large cholla cactus. Two varieties occur in the deserts and one ranges up into the lower mountains.
The nipple-like tubercles that cover the stem give the genus its name from the Latin word mammila for nipple. The flowers are produced at the base of last year's tubercles, in a circle around the stem.
Browse pink to red-orange: Arizona barrel cactus | Arizona fishhook cactus | Chuparosa | Fairy duster | Globe mallow | Mariposa lily | Parry penstemon
Browse color tocs: white to cream | yellow to yellow-orange | pink to red-orange | blue to purple | green, etc.
RimJournal Home | Contents | top of page
Browse: Arizona and Sonora | Alamos, Mexico | desert wildflowers | adobe/mud brick | recipes | Portfolio art, poetry, short stories

Contact us
Photographs, artwork and text are copyright © Carolyn Leigh, 1996-2022. All rights reserved.
https://www.rimjournal.com/arizyson/wldflowr/pinkreds/fishhook.htm
RimJournal, Tucson, AZ, USA at https://www.rimjournal.com/