Home | Arizona y Sonora > Desert wildflowers > Pink to red-orange flowers > Globe mallow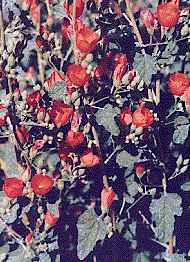 Globe mallow
(Sphaeralcea ambigua)
Common names: apricot mallow, desert mallow, mal-de-ojos, sore-eye poppy.

Annual, Mallow Family.

Blooms February-May, sometimes again after the summer rains. Southeastern Utah south into Baja California and Sonora, Mexico

2 feet (60 cm) high with notched, grey-green single leaves, multiple stems. Mallows range in size from small, sprawling herbs to large, upright clumps.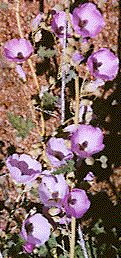 Very drought tolerant, grows along roadsides and on rocky slopes. Small species of mallow carpet the desert floor in a wet year. Some people say the plant irritates the eyes.
Left: Another species of mallow.
Browse pink to red-orange: Arizona barrel cactus | Arizona fishhook cactus | Chuparosa | Fairy duster | Globe mallow | Mariposa lily | Parry penstemon
Browse color tocs: white to cream | yellow to yellow-orange | pink to red-orange | blue to purple | green, etc.
RimJournal Home | Contents | top of page
Browse: Arizona and Sonora | Alamos, Mexico | desert wildflowers | adobe/mud brick | recipes | Portfolio art, poetry, short stories

Contact us
Photographs, artwork and text are copyright © Carolyn Leigh, 1996-2022. All rights reserved.
https://www.rimjournal.com/arizyson/wldflowr/pinkreds/mallowrd.htm
RimJournal, Tucson, AZ, USA at https://www.rimjournal.com/