Home | Contents | Arizona y Sonora > Alamos | Highway guide to Alamos | San Ignacio de Cabûrica, Sonora, Mexico
RimJournal: Arizona y Sonora
San Ignacio de Cabûrica, Sonora, Mexico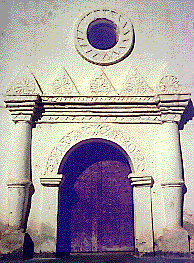 San Ignacio de Cabûrica was constructed by the Franciscans in the late 18th century. This boldly lovely small church still has its ornate, original hand carved doors which were copied for the visitor's center at the Tumacacori National Historic Park in Arizona. One of the church ladies who lives nearby can open the sanctuary. It's appropriate to make a contribution to the church if you go inside.
The road junction is just north of Magdalena, Sonora, off Mexican Hwy. 15. Take the free (Libre) road leading into town. Turn right at the water tower and the white arch and drive about 2 km.
Figure 1: This church's beauty is in the strong simplicity of the design elements.
Figure 2: Detail of the floral elements in the doors.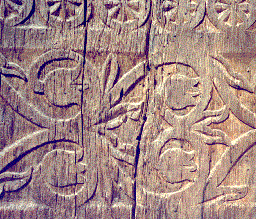 See also: RimJournal's Books on adobe buildings and the University of Arizona's Mission Churches of the Sonoran Desert.
Back to Arizona y Sonora or browse bed and breakfasts | wildflower guide | Yaqui Easter | desert books | bird books | in Sonora: Alamos travel guide | San Ignacio | Sonora coastal bird list
RimJournal Home | Contents | top of page
Browse: Arizona and Sonora | Alamos, Mexico | desert wildflowers | adobe/mud brick | recipes | Portfolio art, poetry, short stories

Contact us
Photographs, artwork and text are copyright © Carolyn Leigh, 1996-2022. All rights reserved.
https://www.rimjournal.com/arizyson/ignacio.htm
RimJournal, Tucson, AZ, USA at https://www.rimjournal.com/