Home | Contents | Arizona y Sonora > Desert bed and breakfasts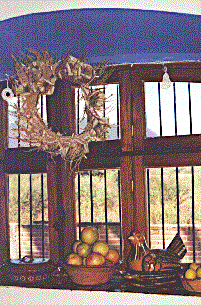 RimJournal: Arizona y Sonora
Desert bed and breakfasts
Stay in my friends' bed and breakfast or my guesthouse vacation rental in Tucson, Arizona, USA.
Crickethead Inn in Tucson, Arizona at www.CricketheadInn.com

Mike Lord and Wayan Suarniti's burnt adobe is surrounded by the Sonoran Desert near the hiking trails of Saguaro National Park West. Mike collects unusual plants, ethnic art, salvaged scrap and his library is in a caboose...an authentic Wild West kind of place. He built our Count Rumford fireplace in House made of mud. Wayan is an expert on Indonesian arts and crafts.

My Tucson Mountains guest house retreat is available for one week or longer stays - check it out at www.CarolynLeigh.com/renthaus.htm
Easy accessible attractions in and around Tucson include:
Saguaro National Park, Tucson Mountain Park, Catalina Mountain Park and the Santa Catalina Mountains, Mt. Lemmon has a small ski area and village.
Arizona-Sonora Desert Museum, Tohono Chul Park, Tucson Botanical Gardens, Old Tucson Studios
Tucson Museum of Art, Center for Creative Photography, Arizona State Museum, Arizona Historical Society
San Xavier Mission, Tumacacori Mission, Tubac Presidio, and Kitt Peak Observatory are just south of town on the one hour drive to Nogales, Mexico.
Bird, mammal and reptile lists for the Tucson Mountains, AZ at www.CarolynLeigh.com/nature/tocnatur.htm
Continue south to Alamos, Sonora, Mexico, traverse the Spanish colonial heritage of the Camino Real.
Figure 1: The view from La Puerta Roja, Alamos, Mexico.
The colonial silver mining town of Alamos, Sonora, Mexico was once the wealthiest town in the region. One of the original stops on the Camino Real, the Spanish Andalusian architecture and cobblestone streets make this quiet town seem suspended in a more elegant time.
Figure 2: Arches and bougainvillea on a street leading to the Alamos cathedral.
More on Alamos, Sonora, Mexico
Back to Arizona y Sonora or browse bed and breakfasts | wildflower guide | Yaqui Easter | desert books | bird books | in Sonora: Alamos travel guide | San Ignacio | Sonora coastal bird list
RimJournal Home | Contents | top of page
Browse: Arizona and Sonora | Alamos, Mexico | desert wildflowers | adobe/mud brick | recipes | Portfolio art, poetry, short stories

Contact us
Photographs, artwork and text are copyright © Carolyn Leigh, 1996-2022. All rights reserved.
https://www.rimjournal.com/arizyson/lodgings.htm
RimJournal, Tucson, AZ, USA at https://www.rimjournal.com/