Home | Contents | Recipe toc > Flo Chang's poached fish
RimJournal: Recipes
Flo Chang's poached fish
plus more fish recipes | boiled peanuts or soybeans | sweet rice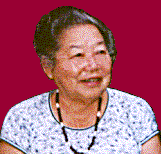 A very fresh whole fish such as cod, halibut, cabrillo or barramundi
Finely chopped fresh ginger root (ginger cuts the fishy smell)
Finely chopped shallots or green onions including the green tops
Peanut oil heated with some minced garlic
Sprinkle a little salt and the ginger in the fish cavity.
Use a heavy skillet with a lid, large enough to hold the fish. Poach in 1/4 inch (1 cm) of water for about 15 minutes, depending on the size of the fish. The water keeps the saltwater fish from getting tough.
To serve, pour the sizzling peanut oil with garlic over the top and garnish with the green onion.
More recipes from Flo and her family
More fish recipes | Boiled peanuts or soybeans | Cooking sweet rice
Fish with soy sauce:
Mix together

1/2 cup water (120 ml)
1/2 teaspoon cornstarch (2 g)
1 teaspoon sugar (4 g)
6 tablespoons soy sauce (90 ml)

Pour over fish. Add chopped green onion.
Cover and simmer until done (It's 'ono - very good! from Dot Chun, Flo's sister).

Fish lavalu style: Wrap the fish in ti or banana leaves. Put an extra leaf on top that will burn to give a smoky flavor to the fish. Start the oven on high to burn the leaf, then turn down low for 15-20 minute to finish.

Fried fish: Fry on both sides in peanut oil with chopped ginger and garlic.

Fish chowder: Make stock from a fish head, tomato, ginger and water. Add corn, diced sweet potato and summer squash. When the vegetables are cooked, add milk.

Filipino sabao style fish soup: Simmer a fish head (salmon is good) with onion, tomato and water (from Allen Chang, Flo's brother).

Pupu (snacks) boiled peanuts or soybeans: Boil unshelled soybeans or peanuts in salted water. Add whole star anise for extra flavor. Drain and take as pupu to eat when you drink beer with your friends (from Allen Chang, Flo's brother).

Cooking rice (Fragrant, Thai or other sweet rice): "Rinse and wash until water is clear. Portion of water to rice: get depth of rice and measure same depth of water from top layer of rice. If softer rice is preferred, add more water. Boil rice with lid partially off. As soon as water is absorbed, turn heat to very low and cover completely. This is time to put sausage in to cook for next 30 minutes or add other food for shorter cooking. Good Eating, Flo"
The Chang's treated us like family, maybe because we love to eat. When Flo visited Ron in Sydney in the 1960's, mullet was only $.25 a lb because the Australians considered it a rubbish fish. In Hawaii it was $1 USD a lb. She came back from the fish market with lots of mullet and poached it. When I met her in Hawaii in 1986, she taught me how to poach fish, but I didn't get it quite right. So this year, 1999, the whole family added in their comments and more ways to cook fish.
Back to Recipe toc or browse Alamos lime pie | Blue corn posole stew | Boiled peanuts or soybeans | Chargrilled Atlantic salmon | Chocolate sour cream cake | Chutneys | Curried pumpkin soup | Eggplant parmesan | Flo Chang's fish recipes | Lemon basil salsa | Pasepa Swann's Fiji curry | Picadillo chili dip | Pie crust | Sepik River patrol curry | Slow-roast lamb | Smoked salmon soufflé with dill | Spice pumpkin pie | Sweet potato spread | Sweet rice | Tamale pie | Winter squash: acorn maple | Winter squash: butternut ginger
RimJournal Home | Contents | top of page
Browse: Arizona and Sonora | Alamos, Mexico | desert wildflowers | adobe/mud brick | recipes | Portfolio art, poetry, short stories

Contact us
Photographs, artwork and text are copyright © Carolyn Leigh, 1996-2022. All rights reserved.
https://www.rimjournal.com/recipes/mains/fishchng.htm
RimJournal, Tucson, AZ, USA at https://www.rimjournal.com/