Home | Contents | Recipe toc > Pasepa Swann's Fiji curry
RimJournal: Recipes
Pasepa Swann's Fiji curry
4-5 lbs. (2 kg) meat cut into cubes. (Beef, pork, lamb or chicken are all good. Pasepa chops the chicken up bones and all.)
l large onion, chopped
6-12 cloves of garlic mashed together with salt (or substitute a chicken or beef bouillon cube)
1 teaspoons (4 g) each fenugreek, coriander and black mustard seed
2 teaspoons (8 g) each cumin seed and turmeric powder
small, red, hot chilis, or substitute cayenne pepper, to taste
1-2 tablespoons (12 - 24 g) curry powder - more or less depending on the brand of curry powder available
fresh coriander/cilantro, chopped
2-4 potatoes, diced
2 carrots, diced (or a seasonal vegetable like eggplant)
1/3 cup (80 ml) yogurt
Mash the garlic and salt in a bowl. Add just a bit of water to make a paste. Add the cumin seed, fenugreek seed, coriander seed, black mustard seed, curry powder and turmeric powder plus red chili to taste and pound to a smooth paste.
(Use a blender to make the garlic and spice mix. Add just enough water to blend. I use a bouillon cube instead of salt. When Pasepa was teaching me, I suggested a blender would be easier. She told me to do it that way when I made it, but when we make it together, it's done her way, by hand.)
Add a handful of chopped fresh coriander leaves and cook in a heavy pot over medium heat until thick.
Add the meat to the sauce. Stir to coat the meat and partially cover, stirring occasionally. Pasepa boiled everything on high heat. She added 2 teaspoons sugar (8 g) and 1 teaspoon salt (4 g) about half-way through to "make it tender".
When the vegetables are added depends on how long they will take to cook. Add the diced potatoes, diced carrots, 1/2 chopped large onion, some fresh coriander and finish cooking.
The meat shrinks a lot cooked this way, but the flavor is intensified and the sauce stays thick. It should coat the meat almost like a glaze. Cook on lower heat if you like, but the result will be more of a broth.
At the end, add some more chopped onion and stir in the yogurt plus more fresh coriander to garnish.
Serve with chutney, rice and tortillas or chapatis if available. The proper way to eat this is to tear off a piece of tortilla or chapti and scoop some curry up with it. It's finger lickin' good!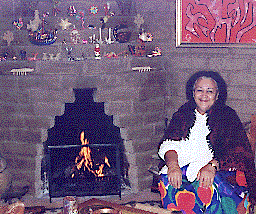 When Pasepa was a young girl in Fiji, an old lady taught her how to make this curry. She measures just by experience and taste. The ingredients vary depending on what is available. In Fiji, curry powders are bought in the market already mixed and Pasepa knows their Indian or Fijian names. In Tucson, we tried to figure out what she needed by looking at the bulk spices in the food co-op. She uses a lot more salt than I'm used to, so I've cut that back.
Our Fijian friend, Pasepa Swann, enjoying the heat of our fire after the heat of her curry, on Christmas Eve, 1997.
Back to Recipe toc or browse Alamos lime pie | Blue corn posole stew | Boiled peanuts or soybeans | Chargrilled Atlantic salmon | Chocolate sour cream cake | Chutneys | Curried pumpkin soup | Eggplant parmesan | Flo Chang's fish recipes | Lemon basil salsa | Pasepa Swann's Fiji curry | Picadillo chili dip | Pie crust | Sepik River patrol curry | Slow-roast lamb | Smoked salmon soufflé with dill | Spice pumpkin pie | Sweet potato spread | Sweet rice | Tamale pie | Winter squash: acorn maple | Winter squash: butternut ginger
RimJournal Home | Contents | top of page
Browse: Arizona and Sonora | Alamos, Mexico | desert wildflowers | adobe/mud brick | recipes | Portfolio art, poetry, short stories

Contact us
Photographs, artwork and text are copyright © Carolyn Leigh, 1996-2022. All rights reserved.
https://www.rimjournal.com/recipes/mains/fiji.htm
RimJournal, Tucson, AZ, USA at https://www.rimjournal.com/