Home | Arizona y Sonora > Desert wildflowers > Yellow to yellow-orange flowers > Yellow evening primrose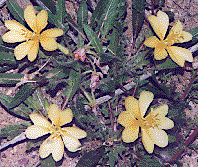 Yellow evening primrose
(Camissonia brevipes)
Common names: sundrop.

Annual herb, Evening Primrose Family.

Blooms February-May, Arizona and California deserts.

3-5 inches (7-14 cm) high from a basal rosette of single leaves with deep notches and sharp lobes.
Delicate blooms open late in the evening and stay open until just after sunrise, longer on cloudy days.
Browse yellow to yellow-orange: Bladderpod | Desert dandelion | Desert marigold | Goldpoppy | Yellow evening primrose
Browse color tocs: white to cream | yellow to yellow-orange | pink to red-orange | blue to purple | green, etc.
RimJournal Home | Contents | top of page
Browse: Arizona and Sonora | Alamos, Mexico | desert wildflowers | adobe/mud brick | recipes | Portfolio art, poetry, short stories

Contact us
Photographs, artwork and text are copyright © Carolyn Leigh, 1996-2022. All rights reserved.
https://www.rimjournal.com/arizyson/wldflowr/yellowos/yelprimr.htm
RimJournal, Tucson, AZ, USA at https://www.rimjournal.com/