Home | Arizona y Sonora > Desert wildflowers > Yellow to yellow-orange flowers > Bladderpod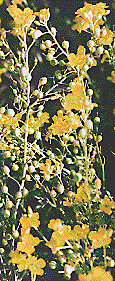 Bladderpod
(Lesquerella gordonii)
Common names: bead-pod.

Annual herb, Mustard Family.

Blooms late winter or very early spring in Arizona, Texas and northern Mexico. Lesquerella palmeri occurs in California.

3-7 inches (8-18 cm) high, single leaves with smooth edges. The seed pods are small globes that pop if squeezed and give the plant its name.
One of the earliest flowers to bloom, it grows under creosote bushes, sometimes carpeting the area with massed yellow. The seeds contain an oil.
Browse yellow to yellow-orange: Bladderpod | Desert dandelion | Desert marigold | Goldpoppy | Yellow evening primrose
Browse color tocs: white to cream | yellow to yellow-orange | pink to red-orange | blue to purple | green, etc.
RimJournal Home | Contents | top of page
Browse: Arizona and Sonora | Alamos, Mexico | desert wildflowers | adobe/mud brick | recipes | Portfolio art, poetry, short stories

Contact us
Photographs, artwork and text are copyright © Carolyn Leigh, 1996-2022. All rights reserved.
https://www.rimjournal.com/arizyson/wldflowr/yellowos/bladderp.htm
RimJournal, Tucson, AZ, USA at https://www.rimjournal.com/