Home | Arizona y Sonora > Desert wildflowers > Yellow to yellow-orange flowers > Desert or Mexican goldpoppy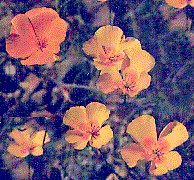 Desert or Mexican goldpoppy
(Eschscholtzia californica ssp. mexicana)
Common names: copa de oro.

Annual, Poppy Family.

Blooms February-May, southern Utah to west Texas, Arizona, New Mexico and northern Sonora, Mexico.

6-12 inches (15-30 cm) high with many flower stems and double compound leaflets with smooth edges.
Yellow and orange poppies carpet the desert hillsides following a warm, wet winter, often mixed with blue lupines and magenta owl clover. They open on sunny days and close at night and on cloudy days. Closely resembles the California poppy (Eschscholtzia glyptosperma). The poppies are easy to see in bloom on Picacho Peak between Tucson and Phoenix, Arizona.
Browse yellow to yellow-orange: Bladderpod | Desert dandelion | Desert marigold | Goldpoppy | Yellow evening primrose
Browse color tocs: white to cream | yellow to yellow-orange | pink to red-orange | blue to purple | green, etc.
RimJournal Home | Contents | top of page
Browse: Arizona and Sonora | Alamos, Mexico | desert wildflowers | adobe/mud brick | recipes | Portfolio art, poetry, short stories

Contact us
Photographs, artwork and text are copyright © Carolyn Leigh, 1996-2022. All rights reserved.
https://www.rimjournal.com/arizyson/wldflowr/yellowos/gldpoppy.htm
RimJournal, Tucson, AZ, USA at https//www.rimjournal.com/