Home | Arizona y Sonora > Desert wildflowers > Blue to purple flowers > Phacelia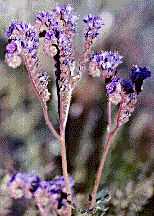 Phacelia
(Phacelia crenulata)
Common names: scorpion weed, wild-heliotrope.

Annual, Waterleaf Family.

Blooms February-June in Arizona. Similar species range from California into southern New Mexico.

6-8 inches (15-20 cm), single leaf with deep notches. Strong odor.
Look for the distinctive curl of the flower head which resembles the tail of a scorpion.
Browse blue to purple: Allionia | Brodiea | Chia | Globe mallow | Robust hedgehog cactus | Larkspur | Lupine | Phacelia | Purplemat
Browse color tocs: white to cream | yellow to yellow-orange | pink to red-orange | blue to purple | green, etc.
RimJournal Home | Contents | top of page
Browse: Arizona and Sonora | Alamos, Mexico | desert wildflowers | adobe/mud brick | recipes | Portfolio art, poetry, short stories

Contact us
Photographs, artwork and text are copyright © Carolyn Leigh, 1996-2022. All rights reserved.
https://www.rimjournal.com/arizyson/wldflowr/bluepurps/phacelia.htm
RimJournal, Tucson, AZ, USA at https://www.rimjournal.com/