Home | Arizona y Sonora > Desert wildflowers > Blue to purple flowers > Robust hedgehog cactus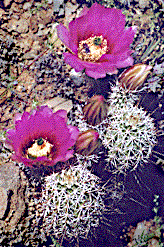 Robust hedgehog cactus
(Echinocereus fasciculatus)
Cactus Family.

Blooms March to April, only hedgehog common in the vicinity of Tucson into extreme southwestern New Mexico. Engelmann's Hedgehog is quite similar and ranges through California and western Arizona.

12-18 inch (30-45 cm) high, ribbed clumps with showy flowers. One of the earliest cactus to bloom.
Likes sun. The tasty fruits are edible and consumed by birds and animals. Some species of hedgehog have fruits (pitayas) that are delicacies in Indian and Mexican communities.
Browse blue to purple: Allionia | Brodiea | Chia | Globe mallow | Robust hedgehog cactus | Larkspur | Lupine | Phacelia | Purplemat
Browse color tocs: white to cream | yellow to yellow-orange | pink to red-orange | blue to purple | green, etc.
RimJournal Home | Contents | top of page
Browse: Arizona and Sonora | Alamos, Mexico | desert wildflowers | adobe/mud brick | recipes | Portfolio art, poetry, short stories

Contact us
Photographs, artwork and text are copyright © Carolyn Leigh, 1996-2022. All rights reserved.
https://www.rimjournal.com/arizyson/wldflowr/bluepurps/hedgehog.htm
RimJournal, Tucson, AZ, USA at https://www.rimjournal.com/