Rim Journal Home | Contents | Crossing Cultures TOC > July 2022: Showtime!
Crossing Cultures: Art and Adventure on the Pacific Rim from Ron Perry's New Guinea Tribal Art and Carolyn Leigh Studios
Showtime! PNG: Highland Shows - USA: Burning Man
Color explodes across the Highlands of Papua New Guinea as tribes gather for the Mt. Hagen and Goroka Shows.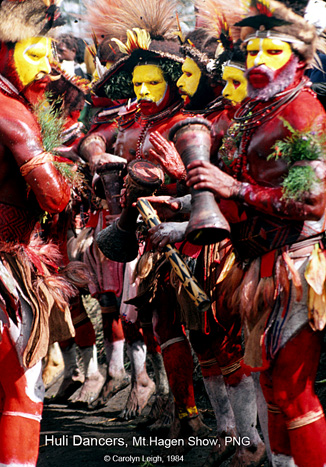 Figure 1: Huli Dancers, Mt. Hagen Show, PNG, 1984.
The shows started before Independence when the Australian Administration brought the often warring Highland tribes together for (mostly) peaceful competitions, including archery contests, agriculture exhibits with useful prizes like breeding stock, plus traditional or original performances in the arena.
The performance part of the shows evolved into prime tourist attractions with spectacular displays of New Guinea pride, beauty, and power.
Ceremony in New Guinea is colorful. Masks, clan figures, bark paintings, faces, bodies are painted/repainted for each event.
The Western market values "old". We told the artists, "Don't clean, don't repaint, or we can't sell." They grinned and closed the sale.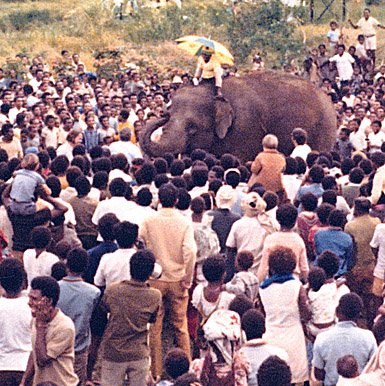 Figure 2: Other venues produced events. Our friend, Hilary Euscher, bossed an elephant during its Highland tour for the Kainantu Hotel in 1973.
Ron traveled to several shows in the 1970s before PNG independence. He drove the Highlands Highway, but often flew in as flights were faster - and safer. Robberies did occur, heavy rains washed sections out. It's not an easy job to maintain road access anywhere in tropical New Guinea.
I joined him later in the 1980s. We flew two groups of artists, from the Keram River and from the hill country of the North Abelam, up to the Mt. Hagen Show to decorate the ends of the Haus Kulture.
The artists rose at sunrise to lay out their creative work before tourists arrived. During the day, they filled in the colors and chatted with visitors. https://www.art-pacific.com/artifacts/nuguinea/storybdo.htm
More on our adventures at these shows in July 2023.
My own art soon reflected the powerful influence and colors of New Guinea.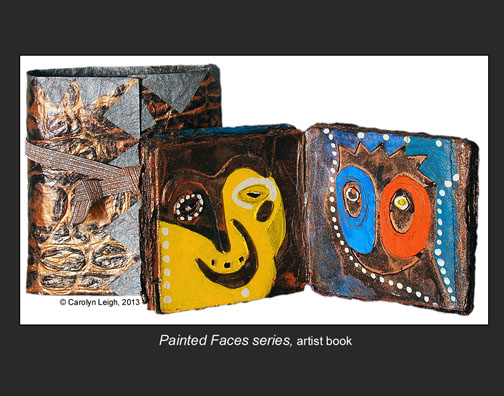 The Painted Faces artist book series reveals the spirits.
At first, they are the unnamed shadows in the forest and bush.
Then in villages, they became the primary spirits in the clan houses.
Look for them now at Carnival, called out from their whispered passings in our back alleys and streets.
The design of the packet is based on the wrap that holds valuable kina shell necklaces in Papua New Guinea.
Figure 3: Primary Faces, Painted Faces Series, artist book by Carolyn Leigh
Primary Faces are the named, primal, ancestral spirits of the village. The rattle becomes the rattle of the masked and painted spirit dancers in the clan houses. https://www.carolynleigh.com/artistbk/facesbks.htm
---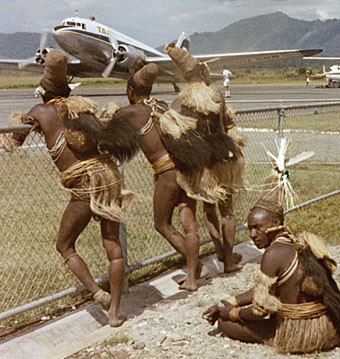 Near the end of the colonial period, the contrasts in the soon to be independent country came together at showtime as the Australian Patrol Post Officers brought performers in from their jurisdictions. Performers came on foot, by truck, and by plane.
Figure 4: Hewas at the airport check out the planes.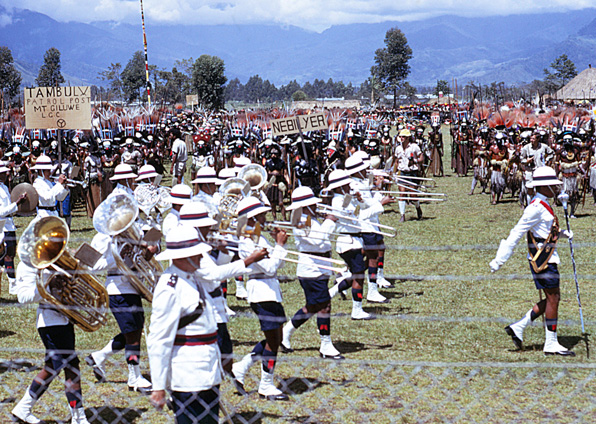 Figure 5: The Highland Marching Band performs. Patrol Posts announce their groups with homemade signs as they watch and wait for the competitive events to start.
Figure 6: All the performers and their escorts were housed or provided campsites. The Shows provided food, no small chore, even in the fertile Highlands. These men hand off yams to women who load their bilums (net bags). Back at camp, they cook for their group and any wantoks (friends) who turn up.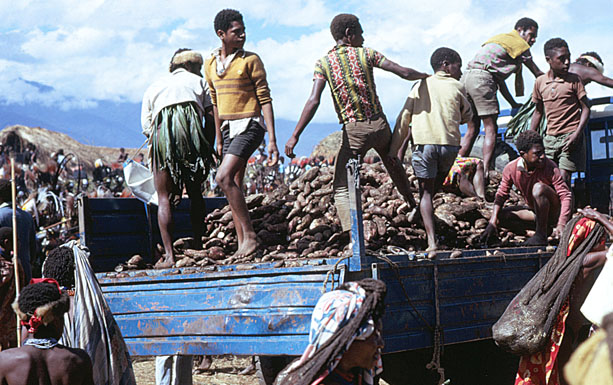 Figure 7: Wigman pose outside their palm-thatched ramada compound. Their human hair wigs are each decorated with a bird of paradise, plus more colorful feathers, shell money and everlasting daisies. They wear kina shell and multi-beaded necklaces.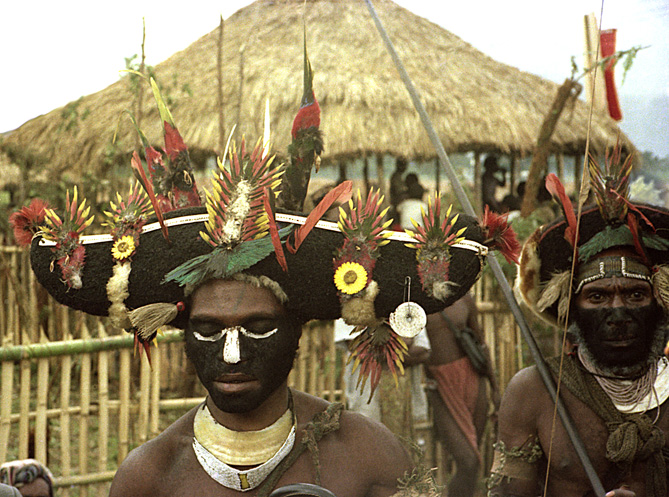 Figure 8: These ceremonial dolis were sometimes for sale. Ron and other buyers bought shell bilas (jewelry), whatever seemed interesting.
His friend, Morris Young, arranged to buy large tapa (barkcloth) Bainings fire dance masks and get them on a flight to Port Moresby where he ran the government artifact shop. https://www.art-pacific.com/artifacts/nuguinea/nbritain/bainings.htm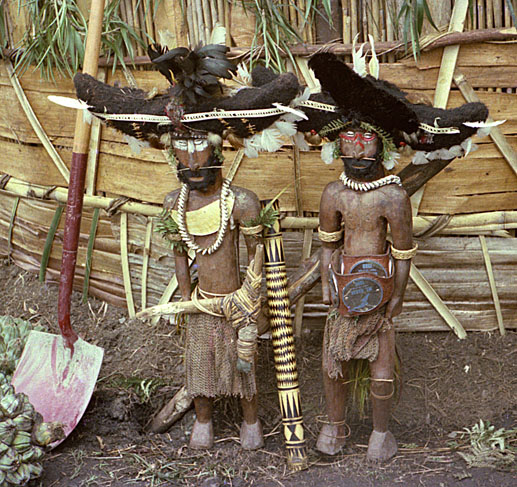 ---
The Show begins!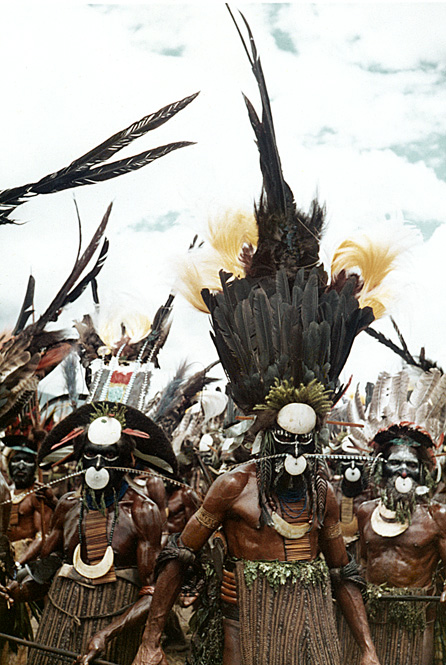 Figure 9: Hagen tribesmen with their spectacular human hair wigs elaborated with feathers, shell and body paint, march into the arena.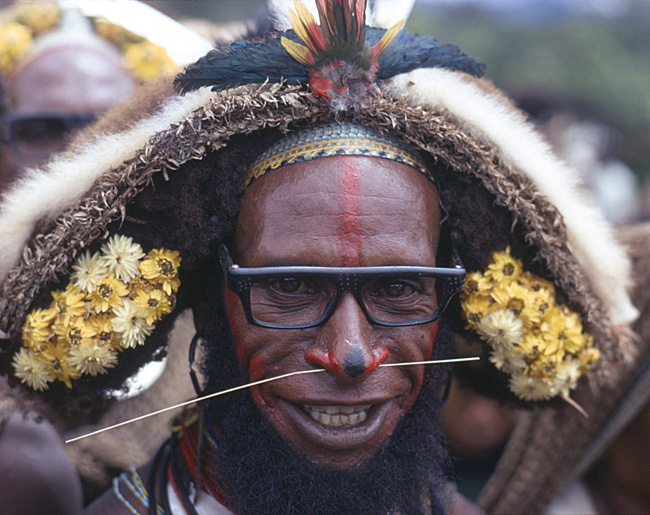 Figure 10: Details matter! Hair wig with everlasting daisies, possum fur, a complete bird of paradise, snake headband, simple nose piece and face paint, plus a pair of eyeglass frames. This is a senior bik man , he's got the knowledge that those wigged and eye-glassed expat judges claim - and he doesn't need the lens to see straight!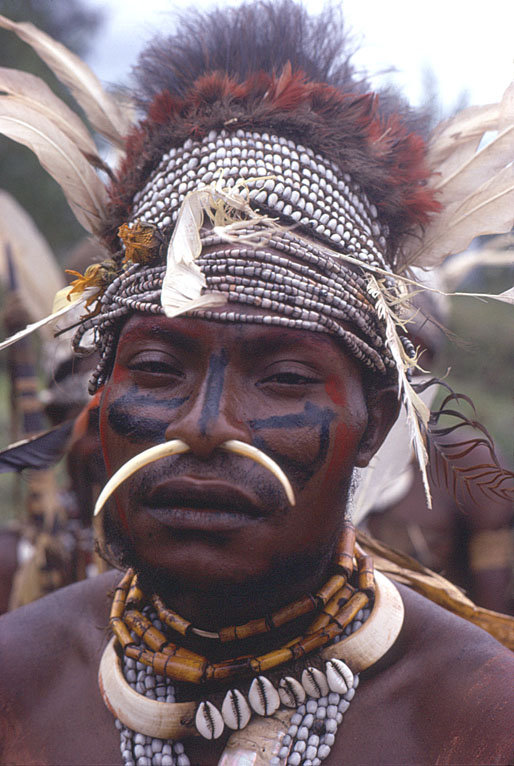 Figure 11: Hewa man in ceremonial dress. The Hewas at the airport wore their everyday gear.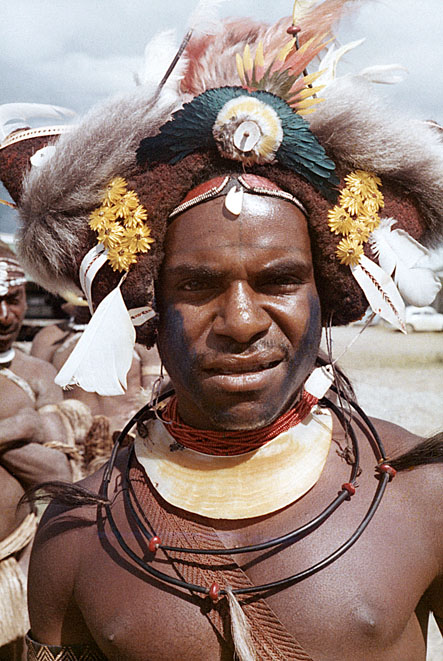 Figure 12: A younger Hagen wigman projects pride and power.
In 1974 after the Goroka Show, Ron and his cousin, Freddie Croxen, trekked with 130 Angu warriors from Kainantu to Marawaka.
Check out their trek with the Angu warriors at https://www.art-pacific.com/artifacts/nuguinea/papuan/kukukuku.htm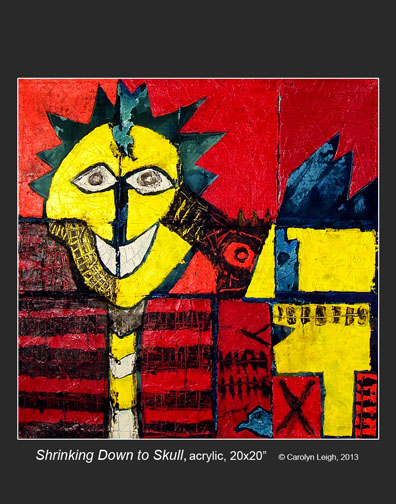 Earlier in Angoram on the Sepik River, Freddie played his guitar on the Post Office porch for Antonia, the post mistress. The Angoram girls thought this curly-haired singer was really cute and said to her, "Who-eeee, him swit more, you winim two fella bag sugar." (Wow, he's really sweet, you win two bags of sugar.) They left him love notes on Ron's porch in talcum powder-filled envelopes.
More on Angoram and the Expat Tribe in this pdf chapter from our book, Art Dealer in the Last Unknown, Ron Perry and New Guinea Art, the early years: 1964 - 1973.
Order the complete, amazing book at https://www.art-pacific.com/artdealr.htm.
While you're there, check out our New Guinea Tribal Art eGuide. Easy/handy to carry our info on your phone.
Figure 13: Shrinking Down to Skull from a collection of my paintings. In my home states, Kansas and Arizona, the light is strong. Colors and forms flatten. I always created with strong colors and forms that held their own. Those same strengths in the art of Native American, Mexican, and New Guinea art, influenced my own work.
More at https://www.carolynleigh.com/collects.htm
---
Can't go to PNG? Go to Burning Man
The 2022 Burn Before Reading includes my drawing, The Beat Goes On, and my 7 haiku at https://www.burnbeforereadingmag.com/issues/summer-2022-moebius. I can't go this year, so fun to have my art and poetry included, thanks to all the hard-working editors. An article I especially relate to is Elders in the Dust. Lots of wonderful art/writing from the Playa!
Burning Man is built/run by volunteers. My volunteer gig is Earth Guardians. Earth Guardians organize Burning Man's educational Leave No Trace patrols throughout the event, protect the hot springs around the Playa edge, sponsor interesting talks on environmental and scientific topics. A great group of friendly, fun folks! Check out their camp at https://www.burningman.org/event/participate/volunteering/teams/earth-guardians/. Volunteer! Your Burn will be better!
Figure 14: Burning Man 2015 on the lightweight folding bike that Janice and David Ashland generously gave to me. So grateful, I could not have spun around the Playa without it. Burning Man is art. This amazing Canadian Goose sculpture was made of of coins.
---
MORE links at Art-Pacific.com :
Painted Face:, Portfolio photography by Scott Lewis Perry: Body art by the dancers and their families, Mt. Hagen Show, Papua New Guinea, August 1997
https://www.art-pacific.com/artifacts/nuguinea/bilas/bodyart/slperry/paintedo.htm
BILAS - Traditional Jewelry in Papua New Guinea
https://www.art-pacific.com/artifacts/nuguinea/bilas/traditional/bilasc.htm
Painted Faces - Beauty and Power
https://www.art-pacific.com/artifacts/nuguinea/bilas/bodyart/bodyartc.htm
Pigment, Oil, Skin - Body Painting at the Mt. Hagen and Goroka Shows, PNG
https://www.art-pacific.com/artifacts/nuguinea/bilas/bodyart/pigment/pigmento.htm
Bundi barkcloth butterfly dancers from Madang Province, PNG
https://www.art-pacific.com/artifacts/nuguinea/bilas/bundibrk.htm
Interesting books and links:
Man As Art, New Guinea Body Decoration
by Malcolm Kirk, Thames and Hudson, London, 1981
This classic book on New Guinea body art, look for used copies online.
The Perry Project includes music from Papua New Guinea. Check it out at http://www.theperryproject.org/journal/music-of-papua-new-guinea.
Mary L. Peachin, our friend, adventure travel author, freelance writer and photographer, traveled to PNG for the shows, diving, and much more. Check out her book Sleeping Around...Challenging My Comfort Zone. She is a member of SATW, OWAA, and ASJA. Follow her adventures at https://www.peachin.com/.
Lukim yu long October! Join us for yam harvest in the Abelam hills of Papua New Guinea; plus, D&iacutea de los Muertos, calaveras skeletons, and more in our Arizona/Sonora Borderlands.
Comments welcome: contact us
---


RimJournal Home | Contents | Crossing Cultures TOC | July 2022 | top of page
Browse: Arizona and Sonora | Alamos, Mexico | desert wildflowers | adobe/mud brick | recipes | Portfolio art, poetry, short stories
Contact us
Photographs, artwork and text are copyright © Carolyn Leigh, 1996-2022. All rights reserved.
https://www.rimjournal.com/xculture/2022july/2022july.htm
RimJournal, Tucson, AZ, USA at https://www.rimjournal.com/