Rim Journal Home | Contents | Crossing Cultures TOC > April 2022: On the road again!
Crossing Cultures: Art and Adventure on the Pacific Rim from Ron Perry's New Guinea Tribal Art and Carolyn Leigh Studios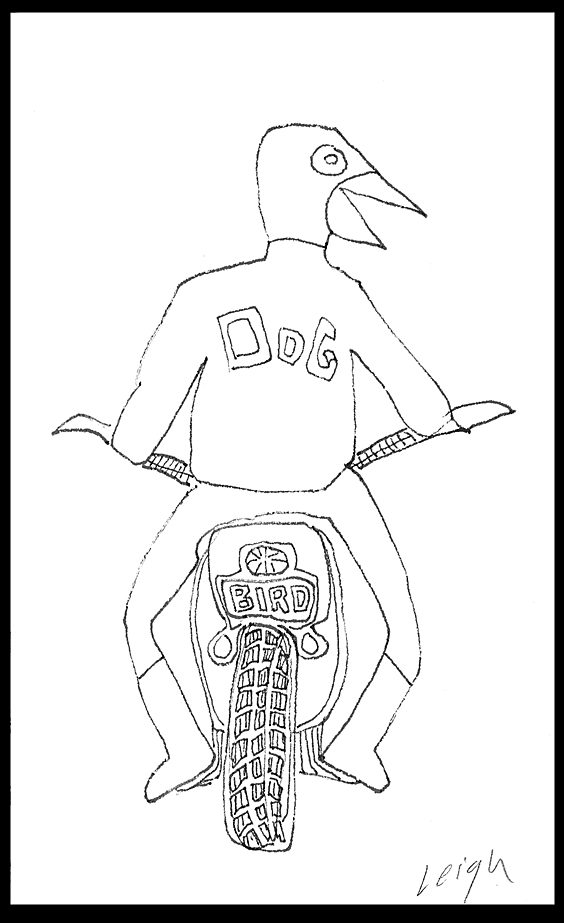 April 2022: On the road again!
Taim bipo/time before, Ron and I would be heading out!
Our newsletter shares our travels/photos/my drawings/paintings as we wandered this amazing world. We were SO lucky to travel when we did - by bush planes, various vehicles, dugout canoes, our own feet, following adventure. Carolyn Leigh
Join the fun as we remember!
Comments welcome: contact us
"On the road again..." June 1985, East Sepik Province, Papua New Guinea
Except in PNG, getting on the road isn't easy. We need a truck. Coming, going, transporting ourselves and crew, gear and artifacts, via friends' vehicles or hired PMVs was inconvenient, slow, often expensive. PMVs (Public Motor Vehicles) are flatbed coffee trucks converted with bench seats, sometimes a tarp rigged overhead, into the the buses of rural roads.
Ron calls on his wantoks. Your compatriots are called wantoks in Pisin English, literally one-talks, your language group, but may include any good friend or neighbor. Friends, especially if you don't have a resident extended family, are true New Guinea gold, without them, nothing gets done.
Figure 1: Each face on a lintel often represents a specific clan ancestor of the man who carved it. The ancestral wantoks are called on by living villagers for knowledge, support and good luck. The carvings are created in sacred compounds in the bush. The artists are supplied with special food and must maintain ritual taboos, including secrecy, associated with the ceremony.
Months before we leave Tucson, Ron contacts one of his wantoks in Wewak, long-time friend Peter Johnson, to see if he could find a truck. Peter asks his friend, Curley, to keep an eye out. Curley is a totally bald chap - hence his cheeky Aussie nickname.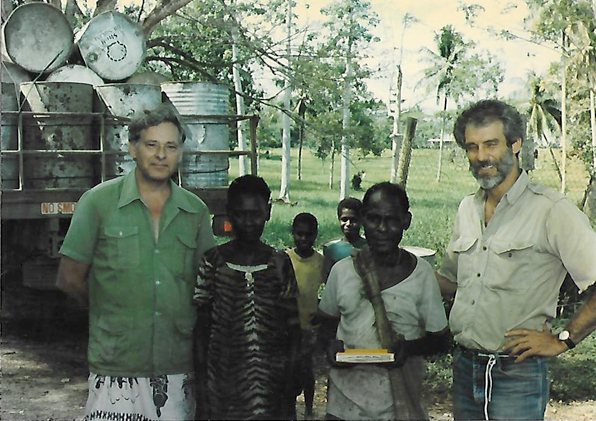 Figure 2: Peter Johnson and Partamun with book and family, plus Ron along for the ride, as Peter makes an Angoram fuel drum run.
Curley spots a coffee buying truck for sale at the Sepik Producer's Co-operative Association. Our friend, Dieter Idzikowsky, head mechanic for the SPCA, tells him the 4-wheel drive is in good condition.
By the time we fly into Wewak, Ron owns a used, 4 cylinder, 3/4 ton diesel, 4x4 green Toyota flatbed coffee-buying truck that averages 23 mpg. It already has a low railing and tailgate to keep the coffee bags in, but we want more cover.
Bob Hayward, our Wewak jack-of-all-trades, could weld a frame for us, but I have a simpler idea. We curve part of a roll of heavy-duty welder's mesh inside the railing. Wired to the rails, it holds the curve without a frame. With the addition of some blue sails (those trade store tarps) tied over for protection from rain and sticky-fingered thieves, we have our covered wagon.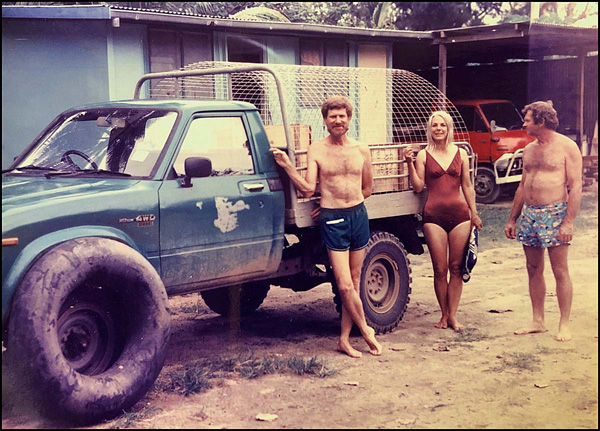 Figure 3: Frank, Carolyn, and Bob with Clem in Peter's banis (his property and compound) after our morning run/swim at Boram Bay, Wewak, ESP, PNG, 1985.
There are minor glitches. In Wewak, we go to change a tire and discover the lug wrench is the wrong size, plus the jack has no hydraulic fluid.
Somewhere along those first roads, we name our pickup Clem.
Years later, Ron sold Clem to a local village official. Life is hard in the village. Clem likely ended up like another truck we saw at the edge of that jungle, with a tree growing up through his flatbed.
For now we are all, Ron, our Tucson friend, Frank Patania, me, and Clem, on the road again - almost.
---
Although everyone knows we will soon go out to buy, the exact day is kept secret. Our patrol boxes and gear are ready to load quickly, quietly, so as not to alert anyone until we are well out of town.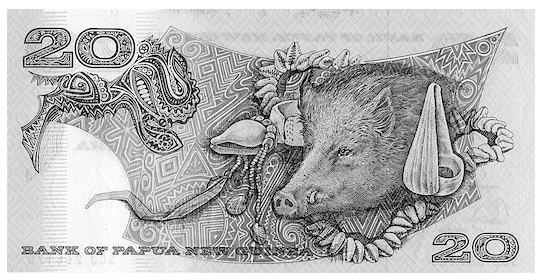 Figure 4: A 20 kina note is good, but not as good as a pig! Wealth is measured by how many pigs a man is owed, not by how many he has on his banis. Although those are good, too.
In the 1980s, we still carry large quantities cash, the kina, PNG's currency. One kina is worth a bit more than the US dollar in 1985. We sort thousands of kina into multiple packets of small, medium, to a few large bills. Ron only shows one of these at a time as we buy in a village.
We stash these packets in our gear and in Clem, always keeping one packet near at hand in case we have to toss out money at a roadblock to divert rascals (Tok Pisin for thieves). This tactic will hopefully give us time to escape. We luckily never have to do this.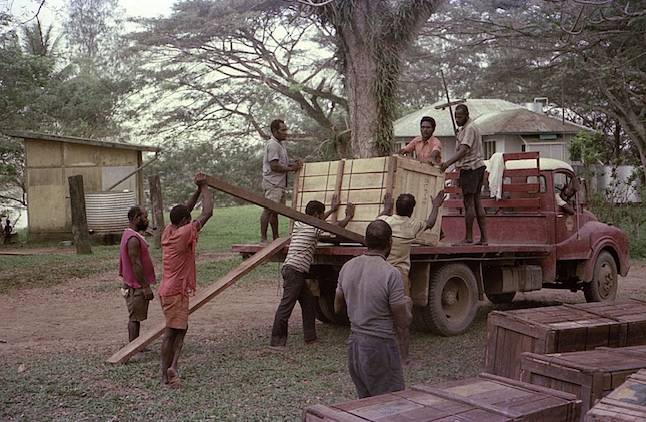 Figure 5: Ron's crew loading cases of artifacts in Angoram in the 1970s.
Before shipping containers, most cargo went out by truck or riverboat to a regional port like Wewak. From there, Luthern Shipping or other coastal transport took cargo to a larger port, usually Madang, Lae, or Port Moresby, to load on an international cargo ship. The missionaries needed to supply their missions, so they developed land, air, and sea transport. Even now, many places are accessible only by mission transport. Extra space is sold to paying passengers and cargo.
June 5, 1985: Up just after 4 AM, with a brecky of bread, butter, cheese, and coffee. Pack the truck. We are on the dark, fog-bound road by five.
Clem powers us up the steep Wewak Hill to the overlook with its sweeping day-view of Boram Bay, past the slumbering small stalls that sell betel nut, coconuts and a few papaya in the shelter of the red-flowered flame trees at the PMV stop, and on out past the end of the pavement to the rutted dirt road towards Angoram town at the Lower Sepik road-head, about 110 km. We arrive in two hours, ten minutes flat. Clem, he gutpela tru! He good fella true!
This patrol (bush and river trips are called patrols) takes us from Angoram up the mighty Sepik River to the villages of Tambanum and Mumeri, then far on up the Blackwater River to the river's end village of Kovemas - but that's another story.
---
Bob, Frank, Ron and I, stay my first year at Peter Johnson's banis in Wewak. Each of us take on a household job - like summer camp. I cook. Frank does the dishes. Ron feeds the dogs. Bob repairs whatever. Peter's job is to put up with us!
Figure 6: Color is everywhere, including salvaged packets added to this yam lining. We leave our useful clean, empty tins and jars out by the road. They are always gone by morning.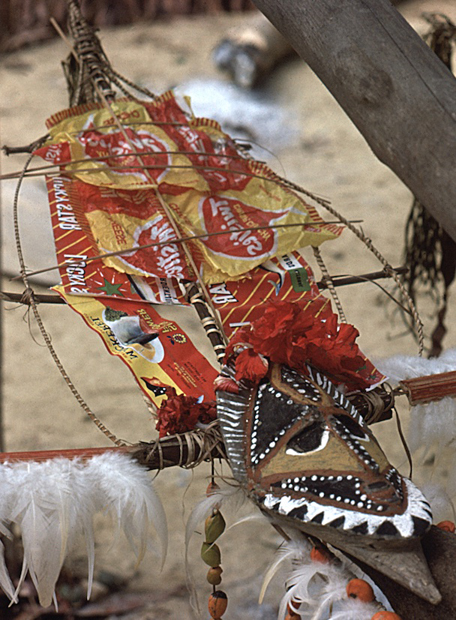 We have running jokes - including a girlfriend, Fifi, for Bob. Fifi leaves him love notes on the bathroom wall next to the toilet where he posts quotations from Barlett's, the Dali Lama, whatever he finds interesting.
We call out that she is meeting him at the Yacht Club at five.
Sweet notes, nestled in talcum powdered envelopes, wait in the mail drop. Village girls who lack perfume use the powder in love notes to their sweethearts.
When one of Peter's business associates joins us, it takes a few days for him to figure out that, "Fifi isn't real, is she?"
The lap lap waters of Boram Bay skirt the white sand beach beyond the berm and the canopy of rain trees that shade Peter's haus. His banis includes a big warehouse, housing for his crew and their families, assorted sheds, vehicles and remains of whatever - might need that someday.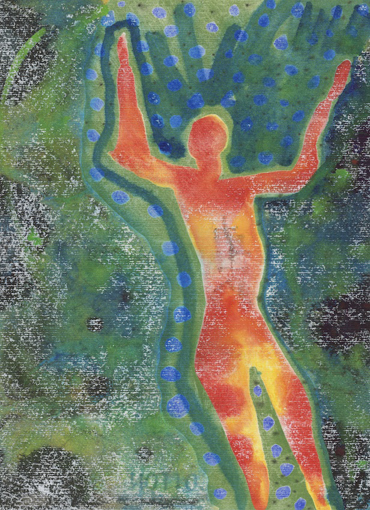 Figure 7: Untitled, gouache on paper, Papua New Guinea, Carolyn Leigh, 1987
In the afternoon, while Ron naps, I paint outside on the wide veranda. One small girl shadows me, peering over the edge of the planks, peeking through the gap in the magenta medallions of the living room curtains. It is a little unnerving, but her curious gaze acclimates me to village life.
Excerpt from drafts of The Artist and The Art Dealer, Carolyn Leigh and Ron Perry in New Guinea, 1985-2005. Thanks to Frank Patania for use of his trip diaries. Two diaries are better than one.
---
Recent interesting books:
The Mercenary Naturalist by Doug Reagan
A friend of Doug's loaned me his copy. I first read the chapters on Sumatra and Papua New Guinea - and was furious. However, Reagan is a good writer, so I read the whole book. It's an excellent book, well written on difficult subject matter. The print-on-demand book is available from Amazon and ABEbooks.
The chapter on Papua New Guinea covers mining at the top of the Fly River drainage. The mine's initial work, when I first came to PNG in 1985, had already impacted life on the river, including the edible fish. The damage is now much more extensive and on-going.
The Forgotten Botanist, Sara Plummer Lemon's Life of Science and Art by Wynne Brown, University of Nebraska Press
Tucson's Mt. Lemmon in the Catalina Mountains is named for Sara. Wynne Brown studied Scientific Illustration with our program at the University of Arizona. Her wonderful book is also available locally from Antigone Books, Tucson AZ.
---
Our longtime friend, George Craig, was an early crocodile hunter on the Fly River. His venue, Marineland Croc Park, features Cassius the Crocodile. When we visited he commented that he didn't let a staff member feed the crocs for long because they felt they got to "know" the crocs and lost caution. The crocs, meantime, had nothing to do all day except wait for the feeder to lose his focus....
Sometimes I watched the young men who came into town from their villages. They lingered on the fringes of the markets, the trade stores and the streets. Not necessarily bad guys, but without work. Some used their village hunting skills, waiting like the crocs - for someone to put their wallet in a back pocket, leave a parcel untended in the back of a pickup, put a camera down off to the side....
Marineland Croc Park on Green Island - Artifacts and Pearl Diving Helmets
Marineland Croc Park on Green Island - Cassius the Crocodile
Lukim yu long April! Showtime! Highland Shows, PNG and Burning Man, USA
Comments welcome: contact us
---


RimJournal Home | Contents | Crossing Cultures TOC | On the road again! | top of page

Browse: Arizona and Sonora | Alamos, Mexico | desert wildflowers | adobe/mud brick | recipes | Portfolio art, poetry, short stories

Contact us
Photographs, artwork and text are copyright © Carolyn Leigh, 1996-2022. All rights reserved.
https://www.rimjournal.com/xculture/2022apri/2022apri.htm
RimJournal, Tucson, AZ, USA at https://www.rimjournal.com/