Home | Contents | House made of mud > Fixed glass windows
RimJournal: House made of mud
Fixed glass windows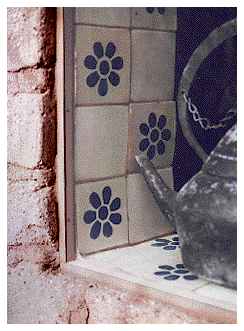 All our windows are fixed glass. This is a small one in the kitchen area. Narrow strips of wood molding were nailed directly into the stabilized adobe brick using finish nails. On the inside we ran a bead of silicon caulk before we sat in the glass. The caulk was sufficient to hold the small sheets of glass in place until we put in the tile. The building code required us to have steel rather than wood lintels over any openings, so we used Liquid Nails to bond the top molding strips to the steel.
The Mexican tile was set directly onto the adobe and steel surfaces using ceramic tile adhesive. I planned the width of the inside ledge so that it was two tiles plus the grout joints wide. This eliminated a lot of cutting. We didn't use any tile edge molding. Instead, I used a paint palette knife to create an angled grout joint between the tile and the adobe. We were not concerned that the tile surface be perfectly flat on the sides as both adobe and Mexican tile have uneven surfaces. The adobes on the bottom sill were smoothed a bit. Later, we grouted the tile with a light brown, sanded grout which matches the adobe. The grout was sealed with an acrylic sealer.
We also used this same technique for large floor to ceiling windows looking in from the portal to the great room, but instead of tile on one side, there is another wood molding strip. We put a few finish nails into the adobe to hold the glass in place until the second molding strip was added. We also ran a second bead of caulk on the inside before nailing in the second strip. Any remaining visual gaps between the adobe and the wood were filled with adobe mortar. We have not had any leaks around any of these windows.
This technique is very simple and lets in the maximum amount of light as the molding strips take up very little of the window area.
Back to House made of mud or browse Count Rumford corner fireplace | Detail of adobe arch framework | Fixed glass windows | Site built doors and windows with side vents | Wall and floor sealers | Books on adobe buildings | Books on adobe construction | adobe buildings in Alamos, Mexico
RimJournal Home | Contents | top of page
Browse: Arizona and Sonora | Alamos, Mexico | desert wildflowers | adobe/mud brick | recipes | Portfolio art, poetry, short stories

Contact us
Photographs, artwork and text are copyright © Carolyn Leigh, 1996-2022. All rights reserved.
https://www.rimjournal.com/mudhouse/windows.htm
RimJournal, Tucson, AZ, USA at https://www.rimjournal.com/