Home | Contents | House made of mud > Count Rumford corner fireplace
RimJournal: House made of mud
Count Rumford corner fireplace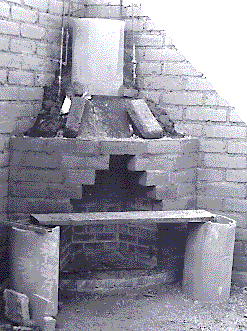 Our fireplace was a joint effort. Mike Lord did the guts that make it work perfectly. I designed the unstuccoed front to blend with our adobe walls as a variation on the New Mexico beehive style.
Figure 1: Partially completed fireplace with stepped arch.
Count Rumford was born in Massachusetts, but he returned to England during the American Revolution. In both America and England, he built and renovated fireplaces to be more heat efficient. He published a book on fireplace design in 1795. Vrest Orton rediscovered his work and wrote a book, The Forgotten Art of Building a Good Fireplace, published by The Yankee Press in Dublin, New Hampshire. In the 1970's, Mew Mexican mason Albert Avila combined the Rumford design with the traditional New Mexico corner design to make a modified Rumford Corner Fireplace.
Very complete design instructions for both styles, including the dimensions of the firebox, are in The Earthbuilders Encyclopedia, pp. 43-46.
Some of the distinctive features are:
A Rumford fireplace is shallow with a tall front opening (3 times the depth) to allow maximum radiation of the heat before it is lost up the chimney.
The inside walls of the firebox are angled to radiated the heat into the room.
The hearth is at floor level. This puts the heat out starting down where your feet are. Our dogs love this, they are always sprawled in front of the fireplace, even after the flames have died . Ron thinks we built our Rumford for the dogs.
A corner fireplace radiates heat into all areas of the room; whereas, a fireplace in the wall leaves two of the four corners cold.
If the fireplace is to be located on an outside wall, a corner fireplace's mass is concentrated inside and will radiate more heat to the interior. For any fireplace, a location with one or more interior walls will retain and conserve heat.
There are 3 inch (8 cm) diameter pipes behind slots between the firebrick on either side of the firebox. These are ducted to the outside so that the fire draws outside air through these pipes instead of sucking cold drafts into the room from around the doors.
Another way to maximize the heat in a corner fireplace is to lay the fire vertically, rather than horizontally. This is an easy configuration in a tall, corner fireplace and was the usual fashion in the original New Mexican corner fireplaces.
Figure 2: Our fireplaces in Alamos have a subtle interior arch.
My 1930 adobe in Tucson has a Rumford fireplace and our house in Alamos has corner fireplaces with some Rumford traits. Both have smoke shelves. I discovered the Tucson shelf when my Siamese cat had her kittens on it. Interestingly, neither of these two fireplaces have dampers.
Rumford fireplaces are well known in New Mexico, but I had a hard time finding a builder in Tucson. Our friends had just completed their adobe house with a Rumford fireplace and they introduced us to Mike. He had also built a Count Rumford at his bed and breakfast, Crickethead Inn.
Mike Lord not only did our fireplace, but also did all our electrical, plumbing and carpentry. Both the Joseph's and Mike's fireplaces are stuccoed and incorporate unique pieces of wood as mantles. All the fireplaces use firebrick inside, have interior ceramic flues and are topped with bird proof, waterproof, metal vent caps. Our chimney rises just high enough above the parapet to draw properly.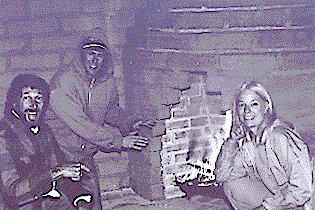 Figure 3: The first fire, December 1992. If we look cold, it's because there are no windows or doors installed yet, and it's a rainy, grey afternoon.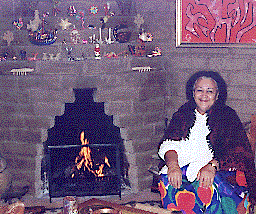 Figure 4: Our Fijian friend, Pasepa Swann, enjoying the fire on Christmas Eve, 1997.
We use the stepped mantle as a Christmas tree substitute.
See also:

Back to House made of mud or browse Count Rumford corner fireplace | Detail of adobe arch framework | Fixed glass windows | Site built doors and windows with side vents | Wall and floor sealers | Books on adobe buildings | Books on adobe construction | adobe buildings in Alamos, Mexico
RimJournal Home | Contents | top of page
Browse: Arizona and Sonora | Alamos, Mexico | desert wildflowers | adobe/mud brick | recipes | Portfolio art, poetry, short stories

Contact us
Photographs, artwork and text are copyright © Carolyn Leigh, 1996-2022. All rights reserved.
https://www.rimjournal.com/mudhouse/fireplac.htm
RimJournal, Tucson, AZ, USA at https://www.rimjournal.com/