Home | Contents | Who we are > Ron Perry's resume

Ron Perry
Ron Perry grew up in Tucson, AZ. He dropped out of the University of Arizona to surf and dive in Hawaii and Australia. After he returned from serving with the US Army in Korea, he hitchhiked through India, Iran, Pakistan, Afganistan, Nepal, and a good portion of Southeast Asia before returning to Australia.
A friend got him interested in New Guinea and in 1964, he made his first trip to the Papua New Guinea side which was then under Australian administration.The country fascinated him. He worked there off and on for the next 15 years: surveying, managing a sawmill and trade store, running the first tour boat on the Sepik River, working for the Papua New Guinea National Cultural Council after Independence, and collecting artifacts as well as investing in various enterprises in Australia.
In 1979, he returned to Tucson to live while still making yearly trips to Australia and Papua New Guinea. He also traveled extensively through Mexico and Central and South America before fulfilling a lifelong ambition to explore Irian Jaya, the Indonesian half of the island of New Guinea. In the late 1980s, Ron, Carolyn and their friends, the Patania's, traveled the mountain highlands of Irian and canoed the swamps of the Asmat. They then explored more of Indonesia, including Sumatra, Kalimantan, Java, Bali and many of the other islands. In 1996, he and Carolyn went to China. He continues to be actively involved in collecting and trading tribal art.
Back to Who we are
Carolyn Leigh Studios presents: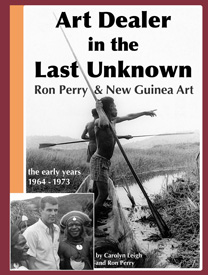 Art Dealer in the Last Unknown
Ron Perry and New Guinea Art
the early years: 1964 - 1973
by Carolyn Leigh and Ron Perry
Join Ron in the jungles of New Guinea on his search for tribal art
320 pages of adventure, over 450 early photographs
Read a chapter preview from Art Dealer in the Last Unknown
"Who else can tell you these stories?" Raymond Weilgus
"Beautifully written...." Don Carson, retired head of the School of Journalism, University of Arizona
RimJournal Home | Contents | top of page
Browse: Arizona and Sonora | Alamos, Mexico | desert wildflowers | adobe/mud brick | recipes | Portfolio art, poetry, short stories

Contact us
Photographs, artwork and text are copyright © Carolyn Leigh, 1996-2022. All rights reserved.
https://www.rimjournal.com/rjwho/rperry.htm
RimJournal, Tucson, AZ, USA at https://www.rimjournal.com/